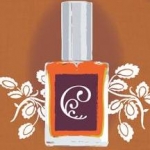 What is the meaning of the above?
Quite simply, Charna Ethier of Providence Perfume Co. is a gifted botanical perfumer and savvy businesswoman with a conscience. In summoning the fragrant natural beauty of Borneo and Sumatra, she has also found a way to assist the World Wildlife Fund in their efforts to protect the endangered species and rainforests which teem with flora and fauna alike.
…
Read full article: Scented Snippets, New Fragrance Review: Providence Perfume Co. Samarinda / Indonesian Inspiration with Benefits from Fragrantica Perfumes and Colognes Magazine.